New Hampshire Guided Ice Fishing Trips
On Lake Winnipesaukee

We offer the very best ice fishing experiences available.
TMO guide/owner, Tim Moore has been featured on national television publications and featured on the cover of several national and regional magazines.
We use the most knowledgeable and friendly guides and the highest-quality equipment and gear to offer a safe, fun, and successful ice fishing experience.
We fish primarily for white perch and lake trout, but occasionally target smallmouth bass, rainbow trout, and eelpout (cusk) on jigs and tip ups.
BELOW YOU WILL FIND OUR RATES, CALENDAR OF AVAILABILITY, AND A CONTACT FORM TO BOOK YOUR TRIP.
FULL TIME GUIDE
ALL BAIT AND TACKLE
TRANSPORTATION ON AND OFF THE ICE VIA SNOWMOBILE
HAND WARMERS
HEATED PORTABLE FISH HOUSE(s)
8 HOURS OF FUN AND FISH
ACCESS TO DIGITAL MEDIA TAKEN DURING TRIP
(Guests are welcome to arrive or depart any time during trip hours)
MEALS AND LODGING
CUSTOMARY GRATUITY
NH FRESHWATER FISHING LICENSE (required)
APPROPRIATE CLOTHING AND FOOTWEAR
FISH CLEANING
(We are unable to clean fish for our clients.)
Anglers are required to leave the waters of New Hampshire with the head and tail intact.

_______________________________________
ALLOW US TO BRAG A BIT...
You'll enjoy a truly world-class experience when you fish with us.
From the quality of our equipment and gear, to the knowledge of our guides, our trips are unmatched anywhere in New Hampshire.
Your on-ice experience is of the utmost importance to us.
We have the knowledge and experience to offer the most comprehensive and highest-quality ice fishing trips possible.
There's a reason more than 60% of our clients come year after year.
Book a trip and we'll show you why.
_______________________________________
2020 ICE FISHING RATES
Subject to change
6 HOUR TRIP
$350 - ONE OR TWO PEOPLE
$100 - EACH ADDITIONAL PERSON
CUSTOMARY GRATUITY NOT INCLUDED
We can accommodate anywhere from one to 25 guests on the ice.
Group rate (10 or more people) is $100 per person.

Group trips require a 50% deposit at time of booking.

Please use the contact form to book your trip.


Gift Vouchers Available (require payment in full)
QUANTITIES ARE LIMITED
You can schedule the date, or give them their gift and let them schedule their own.
NOTE: GIFTED TRIPS REQUIRE PAYMENT IN FULL AT TIME OF BOOKING AND WILL BE ACCOMPANIED BY A GIFT VOUCHER
Vouchers may be transferred during the season for which they are booked (unlike regularly booked trips.)
Voucher trips canceled within five days of trip are non-refundable and non-transferable.
__________________________________________________________
Calendar of Availabilty
Below you will find dates that are booked.
If a day is blank, then it is available.
Please use our contact form (bottom of page)
to verify your preferred date or to book your trip.
PAYMENT & CANCELLATION POLICIES
RATES SUBJECT TO CHANGE
All trips require a $100 (non-refundable) deposit within five days of booking.
Balance is due five days before trip.
Trips booked 21 days or less in advance require payment in full at time of booking.
All payments are non-refundable.

We accept online payments with a credit card.
Upon confirming your trip and dates you will receive an emailed invoice that will allow you to make your payment online with a credit card.

We also accept credit cards over the phone or checks by mail.
Trips canceled by clients are non-refundable.
If we can book your date with another client, we will issue you a refund less your deposit.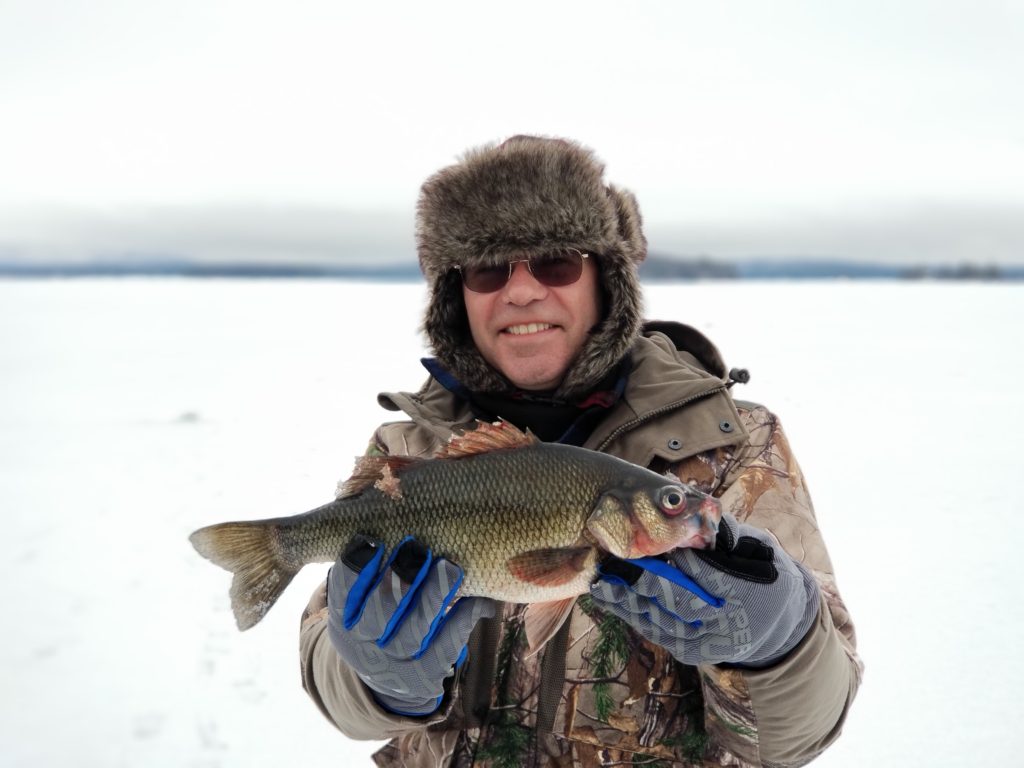 CONTACT US
Please use the form below to book your trip or confirm your desired date.
OUR CONTACT INFO
Tim Moore Outdoors, LLC
197 Golf Course Ln.
Barrington, NH 03825
603.842.3572
info@TimMooreOutdoors.com
__________________________________________________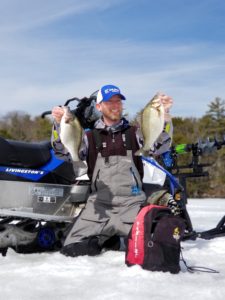 WHAT TO EXPECT
The ice fishing season on Lake Winnipesaukee is from January 1 - March 31 each year. We typically begin running guided ice fishing trips around January 10. This allows us to dial in the best nites and the best ice conditions prior to beginning our season.
We guide full-time and usually guide seven days a week. We target giant white perch and lake trout, but also target smallmouth bass, black crappie, sunfish, yellow perch, rainbow trout, and cusk.
We guide charters as small as one person and as large as 24 people.
Upon booking, guests will be provided with necessary paperwork to complete and return prior to their trip.
We provide everything you need except clothing, food/drink, and fishing licenses. Trips are 8 hours long.
We depart from the launch area at 7am and return at 3pm. (Guests are free to arrive and depart any time during those hours, but it does not change the price of the trip.)
Guests will be given a meeting location at the lake during the week prior to their trip, which will be based on ice conditions and recent fishing results.
We meet guests at the provided location and transport everyone onto the ice. With larger groups it is necessary to make more than one trip which will delay the fishing slightly.
In the days after your trip you will be provided with high quality hi-res photos taken that day.
PLEASE FOLLOW THE INSTRUCTIONS BELOW TO BOOK YOUR TRIP
____________________________________________________
____________________________________________________
 SAFETY
 Safety is our priority. We NEVER bring clients onto unsafe or questionable ice.
We guide every day and always have a handle on ever-changing ice conditions.
We carry safety gear such as a Nebulus Flotation Device, 50' throw rope, safety ice picks, and your guide wears a floating ice fishing suit.
____________________________________________________
 WHAT TO BRING
 Avoid cotton! Wet or damp cotton draws heat away from your body.
Loose layers work best. Tight clothes restrict circulation.
Finish it off with something waterproof, such as ski pants and a ski jacket, or...Clam Outdoors makes some of the best ice fishing outerwear on the market. Check out the full line of Ice Armor by Clam.
GOOD BOOTS, GOOD BOOTS, GOOD BOOTS! This is your most important article of clothing. You will be standing on ice! If you plan to wear your fall hiking boots and think, "I'll be fine," I promise, you won't be. Your feet will get cold first, and stay cold the longest. We do our best to make sure you stay comfortable while on the ice, we need you to do yours too.
Warm gloves or mittens.
Ice creepers for traction when there is no snow on the ice.
A  New Hampshire freshwater fishing license is required by law and not included in your trip.
____________________________________________________