New Hampshire Guided Kayak Fishing Trips
Private (1:1) Trips
Light Tackle Freshwater and Saltwater Trips

New Hampshire's only full-time kayak fishing guide service.
Fish for striped bass, largemouth and smallmouth bass, and black crappie.
BELOW YOU WILL FIND OUR RATES, CALENDAR OF AVAILABILITY, AND A CONTACT FORM TO BOOK YOUR TRIP.
Full-time licensed and experienced guide
Kayak and paddle
Life Vest(s)
Spinning rod & reel setups*
Bait and Tackle
Digital media from trip
Bottled Water
*Anglers are welcome to bring and use their own gear, but it does not change the price of the trip.
Meals & Lodging

Customary Gratuity

NH Freshwater or Saltwater Fishing License (required)
____________________________________________________
KAYAK FISHING RATES
 PRIVATE ONE-ON-ONE TRIPS ONLY

4 HOURS $250
Extra time is $75/hour and subject to availability.
Customary gratuity not included

____________________________________________________
Calendar of Availabilty
Below you will find dates that are booked.
If a day is blank, then it is available.
Please use our contact form (bottom of page)
to verify your preferred date or to book your trip.
PAYMENT & CANCELLATION POLICIES
RATES SUBJECT TO CHANGE
All trips require a $100 (non-refundable) deposit within five days of booking.
Balance is due five days before trip.
Trips booked less than 21 days in advance require payment in full at time of booking.
All payments are non-refundable.
_______________________

Gift Vouchers Available
Payment in full required)
Vouchers may be transferred during the season for which they are booked.
Voucher trips canceled within five days of trip are non-refundable and non-transferable.
_______________________
We accept online payments with a credit card.
Upon confirming your trip and dates you will receive an invoice via email that will allow you to make your payment online with a credit/debit card.

We also accept credit cards over the phone or checks by mail.
Trips canceled by clients are non-refundable.
If we can book your date with another client, we will issue you a refund minus your deposit.
CONTACT US
Please use the form below to book your trip or confirm your desired date.
OUR CONTACT INFO
Tim Moore Outdoors, LLC
197 Golf Course Ln.
Barrington, NH 03825
603.842.3572
info@TimMooreOutdoors.com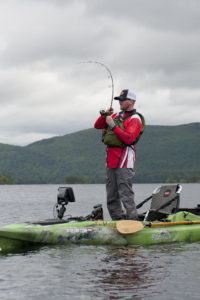 Our guests will enjoy the comfort, stability, and ease of our Old Town Predator PDL (pedal driven) kayaks. Guests who would rather paddle than pedal are welcome to paddle these kayaks as well, just let us know when you book.
Our private one-on-one trips are four-hours long, including paddle time.
We set saltwater trip locations based on pre-fishing results and tides. We do our best to ensure that we launch and land as mud-free as possible, but some launches have large areas of exposed mud near low tide and it can't always be avoided. Be prepared to possibly get a bit muddy, but we'll do our best to prevent it. Water shoes are a plus.
Remember, during striped bass trips you are fishing tidal areas with current. It will take a bit of effort to paddle (or pedal) against currents if the fish dictate it, but few clients have ever found it too difficult. We never put our clients in danger and we do our best to make it as easy as possible, but you may have to work for the fish you catch.
You will be given the launch location and we will have everything ready to go when the trip begins. If there is any instruction needed it will be done at the beginning of the trip. Paddle (pedal) time is usually anywhere from five to fifteen minutes, but can be as long as 30 minutes if the fish or weather dictate it.
NOTE: You may get your feet wet getting in or out of your kayak. Normally, we can put you in your kayak and shove you off, but sometimes the terrain doesn't allow it. Please be prepared to walk in the water (below your knees) if necessary.
Our kayaks are extremely stable and self-bailing. In the event that you did take a wave over the bow, the water will drain out on its own.
ALL ANGLERS 16 YEARS OLD OR OLDER ARE REQUIRED TO HAVE A NH FRESHWATER OR SALTWATER FISHING LICENSE. ONE-DAY FRESHWATER LICENSES ARE AVAILABLE FOR CONVENIENCE. YOU CAN PURCHASE A NH FISHING LICENSE ONLINE AT WWW.NHFISHANDGAME.COM
____________________________________________________
____________________________________________________
 WHAT TO BRING
 Dress appropriately for the weather.
Water shoes make entering and exiting your kayak in the water easier.
Snacks and drinks.
A  New Hampshire (freshwater or saltwater) fishing license is required by law and not included in your trip.