New Hampshire Ice Fishing Guide
Guided Ice FIshing Trips on Lake Winnipesaukee

We are New Hampshire's most reputable ice fishing guide service. We guide more clients each winter than anyone else and we use only top of the line and mostly new ice fishing gear. Safety is our number one priority.
You're sure to have a safe, fun, and memorable ice fishing experience with Tim Moore Outdoors

TMO owner/guide Tim Moore has over 40-years of experience fishing the waters of New Hampshire, and has been a licensed NH guide since 2006. He has the knowledge and knowhow to make your trip a success.

TMO is New Hampshire's premiere Lake Winnipesaukee ice fishing guide service.

Your guide will be knowledgeable and friendly, and use the highest-quality equipment and gear on the market to offer a safe, fun, and successful ice fishing experience.

We fish primarily for white perch and lake trout, but occasionally catch smallmouth bass, and eelpout (cusk) on jigs and tip ups.

Below you will find information about our trips and payment/cancellation policies.

When you are ready to book, select the "BOOK NOW" button to open our booking site.
There you can select the number of people and your date, and pay for your trip.

You may add extra people up to one week before your trip. We will take care of payment at that time.

This page is packed full of information about our trips. We've tried to answer any question you might have.
Visit our FAQs section for answers to some comon questions.

NOTE: We do not combine trips. Your party will be the only ones on the ice with us that day.

Due to regulations we DO NOT offer fish cleaning.
All fish must leave the waters of the state with the head and tail intact.
OUR SERVICES
We are New Hampshire's premier fishing guide service.

We generally target lake trout and white perch in the same trip, but you can customize your trip to a degree. The number of people plays a role in how much customization we can offer. More people makes it harder to customize.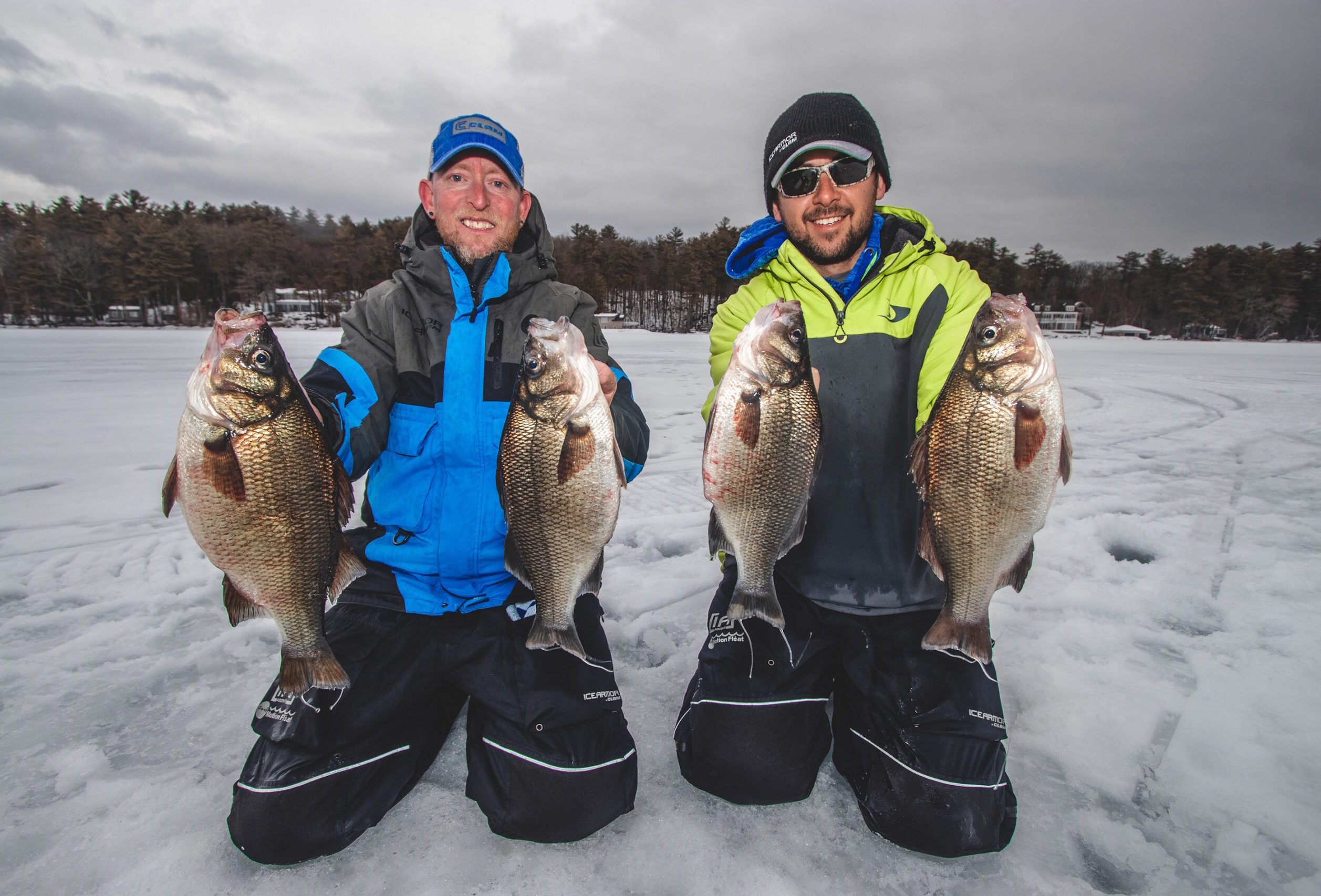 Lake Trout and
White Perch
We target lake trout and white perch on beautiful Lake Winnipesaukee. Some days we move around (depending on group size) to find fish, and other days we let anglers around us do the searching. We use a combination of tip ups and jigging, depending on what is working best at the time. You'll enjoy comfort and the knowledge of a local guide with decades of experience.
Group Trips
Every year we guide multiple groups on the ice. From corporate trips, to bachelor parties, to Scout Troops, to fraternity outings, or just a bunch of friends. They all have fun and most of them come back every year.
Scroll down for group rates.

Please see our rates and use the contact form below for groups of ten or more people.
ABOUT OUR TRIPS
Here you will find information about what IS included and what IS NOT included.
Keep scrolling for details about our trips, our calendar and contact form, and FAQs.

Ice fishing trips run five days a week (Wednesday – Sunday) beginning around January 10 and ending March 31.
Trips are five-hours long (7AM – NOON) and no group is too large or too small.

We meet our clients at the end of Bay Road in Tuftonboro, NH but occasionally launch out of Moultonborough
if ice conditions are not good in Tuftronboro.

Once your trip is secured you will be given the exact launch location.

As always, safety is our number one priority. We keep a close eye on ice conditions and NEVER bring clients to areas that we have not previously checked. That said, we carry well-maintained safety gear, such as a Nebulus Flotation Device that will float our snowmobile and up to three people should it ever fall through, and we also carry ice safety picks when needed. For added assurance, your guide wears the Ascent Suit from Ice Armor by Clam, a floating ice fishing suit.

We use only the highest quality ice fishing gear. From our Clam Outdoors shelters, tackle, rods and reels, and other fishing gear, to our Portable Buddy Heaters from Mr. Heater, or our Arctic Cat snowmobile, you'll be in good hands.

Our snomobile is a well-maintained 2016 Arctic Cat Bearcat utility sled. It is realiable and (with sleds in tow) can move as many as six people (plus your guide) at a time.


Guided Trips Include:
– FULL TIME GUIDE
– ALL BAIT AND TACKLE
– TRANSPORTATION ON AND OFF THE ICE VIA SNOWMOBILE
– HAND WARMERS
– HEATED PORTABLE FISH HOUSE(s)
– 5 HOURS OF FUN AND FISH
– ACCESS TO DIGITAL MEDIA TAKEN DURING TRIP
(Guests are welcome to arrive or depart any time during trip hours)

*Anglers are welcome to bring and use their own gear, but it does not change the price of the trip.
Guided Trips

DO NOT

Include:
– MEALS AND LODGING
– CUSTOMARY GRATUITY
– NH FRESHWATER FISHING LICENSE (required)
– APPROPRIATE CLOTHING AND FOOTWEAR
– FISH CLEANING
(We are unable to clean fish for our clients.)
Anglers are required to leave the waters of New Hampshire with the head and tail intact.

Click the button below to purchase a NH Freshwater Fishing License
*You may print and bring your license, or you can have a picture of it on a smartphone.
BUY A FISHING LICENSE
PRICING & PAYMENT POLICIES
SUBJECT TO CHANGE
PRICING
FIVE-HOUR TRIP
$450 Total
ONE OR TWO PEOPLE
(not per person)
Price the same for one or two adults

ADDITIONAL PEOPLE
$125 each

Customary gratuity not included


GROUP RATE
10 or more people
$125 per person
50% non-refundable deposit required
at time of booking.
Balance due one week prior to the trip.
Customary gratuity not included.



Gift vouchers available
See Payment Policies for details
PAYMENT POLICIES

We accept online payments with a credit card (fee) through our booking site.

CANCELLATION POLICY:
Up to 60 days prior to trip – 50% refund
60 days or less prior to trip – NO REFUND

Cancellations for bad weather are at the sole discretion of your guide.
In the event your guide cancels for inclement weather, you will be given the option of rescheduling or a full refund.

ATTENTION: Trips canceled due to the unsafe ice are NOT REFUNDED. You will be given a credit equal to the amount you paid, which can be used anytime (for any of our guided trips) up to one year from the date of your original trip date.

VOUCHERS AVAILABLE
(require payment in full)
Vouchers are non-transferable and non-refundable.
Please note: These are gift vouchers, not gift certificates.
They are for a specific season or date and do expire if not used.

Email us at [info @ TimMooreOutdoors . com]
(remove spaces in email address)
to purchase a voucher.
BE PREPARED
Avoid cotton!
Wet or damp cotton draws heat away from your body.
Loose layers work best.
Tight clothes restrict circulation.

Finish it off with something waterproof, such as ski pants and a ski jacket, or…Clam Outdoors makes some of the best ice fishing outerwear on the market. Check out the full line of Ice Armor by Clam.

GOOD BOOTS, GOOD BOOTS, GOOD BOOTS!
This is your most important article of clothing.
You will be standing on ice!
If you plan to wear your fall hiking boots and think, "I'll be fine," I promise, you won't be.
Your feet will get cold first, and stay cold the longest.

Warm gloves or mittens.
Ice creepers for traction when there is no snow on the ice.

We do our best to make sure you stay comfortable while on the ice, we need you to do yours too.

A New Hampshire freshwater fishing license is required by law and not included in your trip.
BUY A FISHING LICENSE
BOOKING YOUR TRIP
We accept online bookings!
View the trip details and payment policies above, then select the "BOOK NOW" button to go to our booking site.
If the date you want does not show up as available, then it is unavailable.
Please do not email us asking for dates that do not show up on our booking site.

Have a special request or question?
Email info @ TimMooreOutdoors . com
FAQs
Below are answers to some frequently asked questions
How long are your ice fishing trips?
Our trips are five hours long. We pick our clients up at 7am and drop them off at 1pm. How early in the year should I book my ice fishing trip?
We are usually fully booked around Thanksgiving. We suggest booking prior to then Once we are booked, we will begin adding clients to our cancellation list at their request.

What is included in a five-hour ice fishing trip?
We include all the fishing gear, shelter(s) with heat, bait, and tackle for a productive, fun, and safe day on the ice. The only thing not included is a NH freshwater fishing license, food and drinks, appropriate clothing and footwear, ice cleats for traction when there is no snow, and customary gratuity.

What is the preferred way to book an ice fishing trip?
We prefer online booking. Booking online allows us to seamlessly transfer your information between emails, invoices, and our calendar, leaving less margin for errors.

What form of payment do you accept?
We accept online booking with a credit card. Click the "BOOK NOW" button to book your trip.

Do I need a freshwater fishing license?
Anyone 16 years old or older needs a NH Freshwater fishing license. Fishing licenses may be purchased online at www.nhfishandgame.com. Non-residents can purchase a one, three, seven-day, or annual license. Residents can purchase a one-day or annual license. Licenses from other states are not reciprocal.

Do I need to have my fishing license with me?
Yes. After you purchase a fishing license you can either print it and bring it with you, or you can have an image of it on a smartphone. We are required to check licenses and keep records of each person who fishes with us. In 2020 we will be taking a picture of each person's license.

Can I join another group's trip to save money?
Sorry, no. We do not combine groups. When you book a trip, it is for your party and no one else.

Can I book a trip for someone else?
Yes, just please indicate who it is for and make sure they reach out to us with contact info assap so we can make sure they get relevent trip details and updates.

What part of Lake Winnipesaukee do you guide on?
Our trips leave from the end of Bay Road in Tuftonboro. In some rare cases, we meet our clients in Moultonborough, depending on ice conditions.

I'm not a morning person. What if I want to arrive later than 7am or stay later than 1pm?
We don't take hostages. You are free to come and go anytime between 7am and 1pm. We only ask you to give us advanced notice of late arrivals and understand that it will not change the price of your trip. On some occasions, you can book additional time at a rate of $100/hour. Extra time is subject to availability.

Will you clean my fish for me?
Sorry, no. There are several reasons for this. Mostly because by NH law "the head and tail must remain intact while on or leaving the waters of the state." Also, there are no fish cleaning stations in New Hampshire like there are in some other states.

How many coolers can I bring?
How many coolers do you need? Just kidding. Most groups bring one mid-sized (30-quart) cooler or each member brings a small cooler. Some just bring a backpack with their food and extra gloves, etc. It's ice fishing. Keeping things cold isn't an issue, keeping them from freezing is.

Do you have a policy on drinking alcohol?
We allow it but remind everyone to drink responsibly. For everyone's safety, we will report intoxicated drivers to the authorities. We also aren't paid to pick people up off the ice and we're not very good at participating in drunk conversations. If that's going to be the case, bring a friend. Plus, you're going to have a great time. Don't you want to remember it?

How big is your heated shelter?
We have two different shelters, depending on the number of people and weather. For two (and sometimes three) people we have a flip-over (Fish Trap) shelter that we tow behind our snowmobile. For larger groups we have a six-sided hub (pop up) shelter that is 11 ½' across.

I have a favorite fishing rod. Can I bring it?
We ask that our clients use our gear for two reasons. The more you bring, the more we need to transport, in addition to the gear we already have. Also, our gear is specifically set up for the type of lures we use and the species we are targeting. However, if you have your heart set on using your own gear, we will accommodate it. Just let us know in advance.

Can I purchase an ice fishing trip as a gift?
Once you get to our booking site by clicking the "BOOK NOW" button, there will be a place to add a note. Please indicate that you would like a voucher and the person's name who it is for and we will email it to you. You must choose a date and pay for the trip through our booking site before we will email your voucher.

How many people can you take on one trip?
We can handle as many as you want to bring. We guide multiple large groups every year. Keep in mind that more people take longer to shuttle out to the fishing location. You can also add additional people to your trip up to one week prior to your trip. We will invoice you for the ectra people at that time.

I have someone who wants to come, but not fish. Do I still need to pay for them?
Yes you do. We provide safety adn comfort, adn assume responsibility for everyone that comes out with us.
TMO on TV
Video productions from across the country have visited Lake Winnipesaukee to film with Tim.
Hook Shots
A field & Stream production, this Hook Shots episode was filmed during the winter of 2016.
WATCH EPISODE
Across the Ice Belt


Across the Ice Belt with Ice Team was filmed in 2016 and aired on Fox Sports North and Fox Sports Wisconsin in the fall of 2017.
WATCH EPISODE
WMUR's NH Chronicle
This episode of NH Chronicle was filmed and aired in February of 2017.
WATCH EPISODE
Subscribe to our newsletter.
We'll only send cool stuff.
Recieve news about recent fishing conditions, events and seminars, deals and discounts, and more.
We will never share your info.