WELCOME TO KAYAKUNIVERSITY.INFO!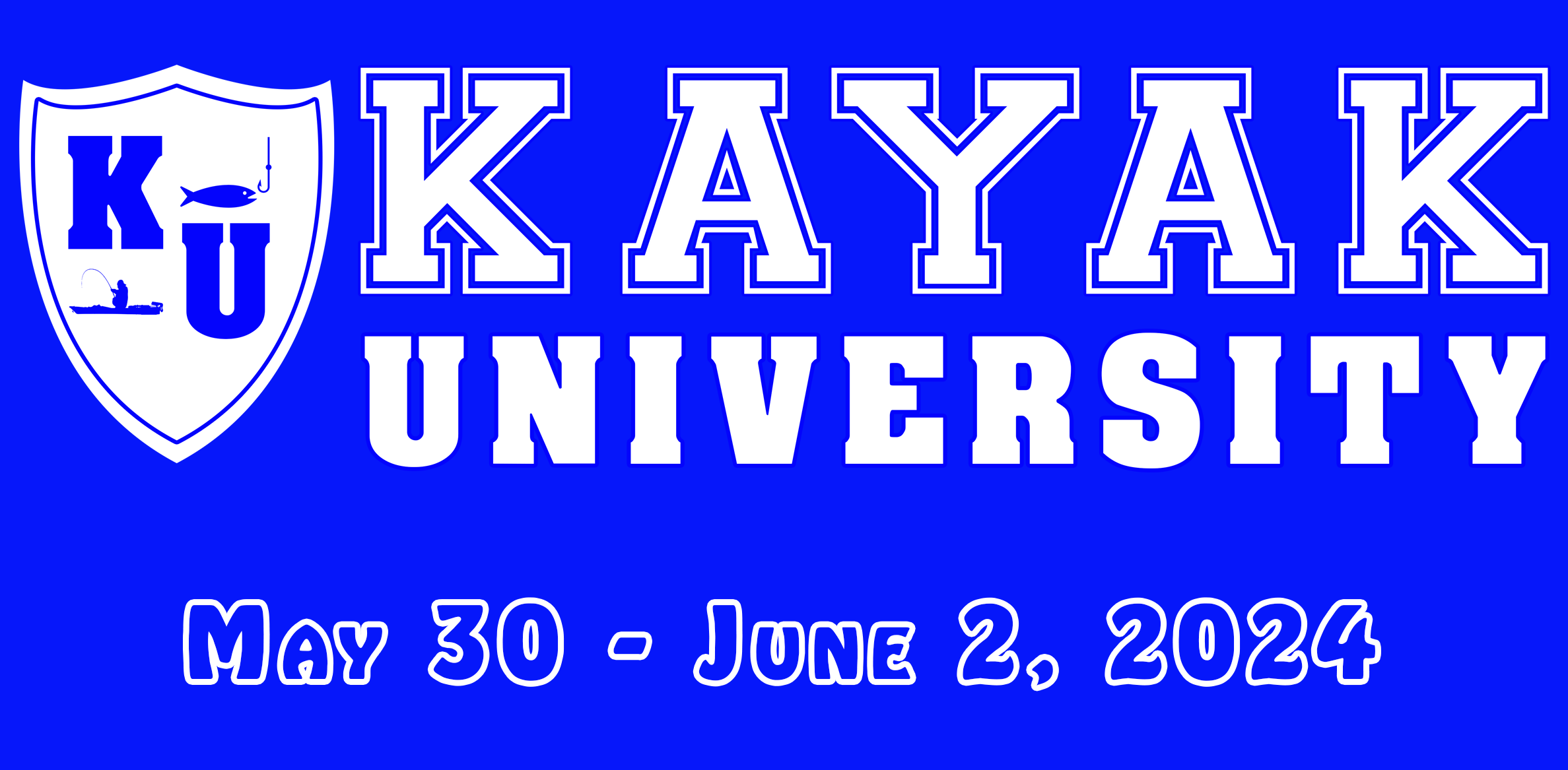 REGISTRATION IS OPEN TO THE PUBLIC!

Kayak University 9 will be held at Rockywold-Deephaven Camps on Big Squam Lake in Holderness, NH.

This four-day event is New Hampshire's only kayak fishing weekend destination event.

Fish and learn from some of the most knowledgeable and friendly kayak anglers in New England,
as well as industry professionals.

Learn from some of the best (and nicest) kayak anglers in New England, meet other kayak anglers of all skill levels, and build community.

Enjoy rustic shared accommodations, great food, great fishing, informative seminars, fireside chats, giveaways, and being a part of our amazing community of anglers.

Fish for smallmouth or largemouth bass, landlocked salmon, lake trout, rainbow trout, yellow perch, or white perch.

Bring your kayak and fishing gear, and come prepared to make memores and form lasting friendships.

Don't have a fishing kayak? RDC has a fleet of Old Town Predator PDL (pedal drive fishing) kayaks available for rent at a rate of $75/day or $170/3 days.
Please contact RDC at (603) 968-3313 (after you have registered for Kayak University) to rent a fishing kayak.

Have questions about the event? Email the event director
info @ TimMooreOutdoors . com

PAYMENT & POLICIES
Payment is due at time of booking.
We accept Venmo, checks, or credit cards.
(Please note: Credit card payments will have a 3% fee added.)

Registrations are non-refundable.

Kayaks and fishing gear are not provided.
Old Town Predator PDL (pedal) kayaks are available to rent directly from RDC.
REGISTRATION INFO
$675 per person

INCLUDES:
Meals
(Thursday evening – Sunday lunch)
Shared Lodging (Thursday through Sunday)
Private access to Big Squam Lake
Seminars
TO REGISTER:

Contact event director Tim Moore at
info @ TimMooreOutdoors . com
or
603-842-3572

Please DO NOT contact Rockywold-Deephaven Camps for Registrations

LOCATION:
Rockywold-Deephaven Camps
18 Bacon Rd.
Holderness, NH 03245

SPECIAL GUESTS
TIM MOORE
Event Director
Old Town Canoes and Kayaks Brand Ambassador
Owner – Tim Moore Outdoors

JACK HOUGHTON JR.
Daddy Mac Lures
Old Town Canoes & Kayaks Pro Staff

RYAN DUBAY
Hobie Fishing Tea

JACK HOUGHTON SR.
Co-Owner Daddy Mac Lures

LARRY WENTWORTH
Owner BigFish Bait Co.

JUDY RICHARDSON
Oold Town Canoes & Kayaks Pro Staff
—————————————
WHAT TO BRING
– KAYAK AND PADDLE (not provided)
– PFD (required)
– NH FRESHWATER FISHING LICENSE (required)
– FISHING GEAR (rods, reels, tackle, etc.)
– RAIN GEAR
– PORTABLE VHF RADIO (HIGHLY RECOMMENDED)
– SUNGLASSES
– SUNSCREEN
– BUG SPRAY
– WATER BOTTLE
EVENT SCHEDULE
THURSDAY
TBD


FRIDAY
6TBD


SATURDAY
TBD


SUNDAY
TBD
—————————————
WHAT TO FISH FOR
Landlocked Salmon
Lake Trout
Rainbow Trout
Smallmouth Bass
Largemouth Bass
Yellow Perch
White Perch
Rockywold-Deephaven Camps
18 Bacon Rd.
Holderness, NH 03245
FAQs
Below are answers to frequently asked questions.
Q: What does "shared lodging" mean?
A: Our event will be housed in several different cabins with varying capacities. Each cabin consists of several bedrooms. Each bedroom has two twin beds. Attendees coming with a friend (or couples) will be placed together when requested. Couples are welcome to push beds together. Single attendees will be placed together to maximize space.
Q: Are there kitchens in the cabins?
A: No, there are no kitchens. Each cabin has a small kitchenette area with a sink to wash coffee cups, make coffee, etc., and an antique ice box. Each winter, RDC harvests ice from Squam Lake and stores the ice in their ice houses. Ice is delivered to the ice boxes by RDC staff. With limited ice box space, we request that each attendee bring their own cooler if they wish to bring drinks or food items that need to be kept cool.
Q: Can I bring my pet to Kayak University?
A: Sorry, no. RDC does not accomodate pets.
Q: Do I need to bring my own kayak?
A: RDC has a limited number of Old Town Predator PDL (pedal drive) fishing kayaks for rent. You may rent one by contacting RDC after you have registered for Kayak University to arrange rental. Kayak rentals are on a first come first served basis.
Q: Are life jackets required?
A: Yes! You must provide your own PFD and wear it at all times when on the water. This is an event requirement.
OUR SPONSORS
WE COULDN'T DO THIS WITHOUT THEM